Get to know me...
I'm just a badass artist creating for all you badasses out there. Rocking your universe with color and creativity. Welcome
Come on in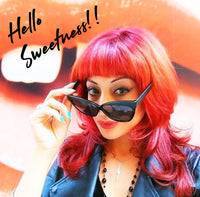 Hand-Painted Leathers & Denims
Make a statement, show off your style and stand out. We offer one-of-a-kind custom painting on your denims and leathers
Testimonials
"I purchased the hand- painted Sacred Heart vintage leather Coach bag from VeraVixeness and I haven't looked back! I've been wearing it non-stop and I couldn't be happier with my purchase. The hand painted Sacred Heart is incredibly well-done and the bag is a great accessory for any outfit! If you are looking for a show-stopping, one of kind item go to Debbie!"

Maria P.
... perfect piece for me because it's understated until you get close to it, then people can't keep their eyes off it! Thanks so much!

Somori P.
...gorgeous necklace with just the right amount of rock n roll attitude I asked for the chain to be shortened and VeraVixeness was super responsive and friendly. It arrived on time and is absolutely beautifully made. Great quality too! I love it!

Tamara L.